As a dog lover, dogs have been in my life for as long as I can remember. When I was little and my mother wasn't ready to add a dog to the family, I would dream about owning one someday. That day came in 2002 when we adopted a miniature poodle named Mills. He wasn't a puppy though, he was a 10 year old, grumpy but spunky dog. He started my pack and the rest of the dogs who joined down the line were also adult dogs. I've never had the chance to raise a puppy until now.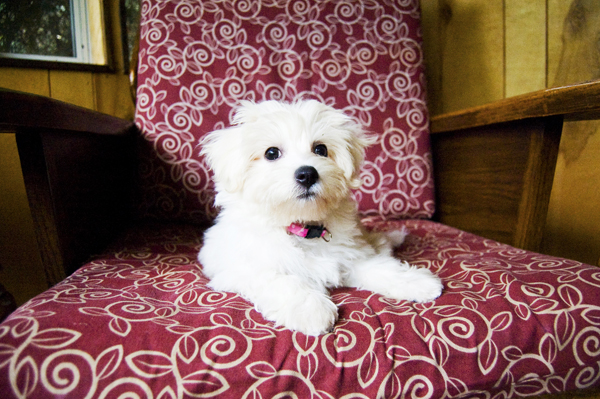 Meet Daisy, she is a 13 week old Bichon Frise puppy. I found her on Petfinder (listed with her two siblings) and decided she was going to be mine. The only hitch was her location, all the way down in southern Virginia. That didn't phase me one bit.
I took the long drive down there and Daisy joined my family on Saturday, July 26, 2014. It was a tiring trip but worth it. I felt like I was dreaming while driving home with her. (I knew it was real when she got car sick all over my lap.) I couldn't believe that I had adopted my first puppy. I was excited but nervous all at the same time. I was a new mother to a puppy.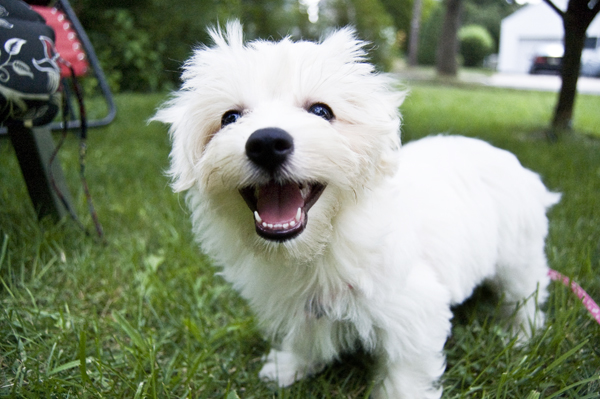 Why a puppy? After we had to put down Lady (In Memory of Lady) a week before Christmas last year, I told my mother, "Our next dog is going to be a puppy." I love adult dogs, but I wanted the experience of raising one puppy in my life. Plus, it would be easier to integrate a puppy into our pack of dogs and cats. We decided that one day, down the road, we would get a Bichon Frise puppy. That day came when I adopted Daisy.
Daisy is a little bundle of joy and full of mischief, but I am loving the learning experience. She loves playing with toys and stealing a shoe once in a while. Let me tell you, she will snare a shoe that is bigger than her (she currently weighs 4.5 lbs), and carry it all the way to the dog bed. Daisy is smart, curious and ready for anything. My mom and I are in peril with every step we take because we often find Daisy right under our feet as we walk.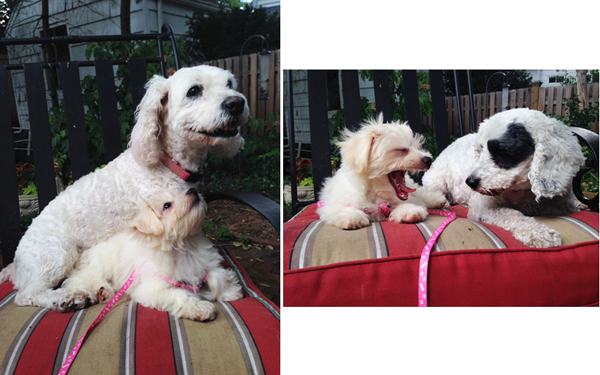 While she is delighted to be around her new dog siblings, I cannot say that Princess and Oliver enjoy Daisy's company as much as she enjoys theirs. It took Princess a few days to get used to the puppy in the house. Daisy would jump all over her and Princess wasn't too happy about that. I let Princess know she is still the top dog of the pack and no puppy could change that. Now Princess doesn't mind when Daisy lays near her or jumps all over her. Oliver, on the other hand, still isn't too happy about the puppy. I knew it would be more of an adjustment for him since he is more territorial and my mother's baby boy. Luckily he doesn't go after Daisy, but he would prefer that she not get near him. Sorry Oliver, the puppy is here to stay.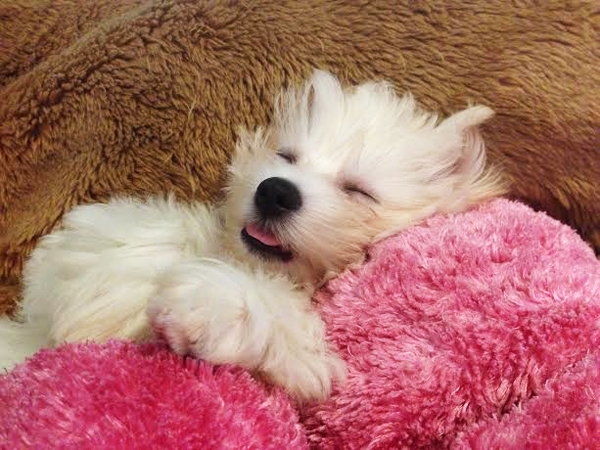 I am excited for all the puppy days to come, but I am also excited to watch Daisy grow up to be an adult dog. I have my camera ready to capture all those precious moments as she lives a great life in my pack. Welcome to your forever family, Daisy!