Black Friday has passed and Cyber Monday is finally here. I am not a fan of Black Friday because of the crowds and trampling of people. I prefer to shop from my home on my laptop. Nothing is more convenient than that.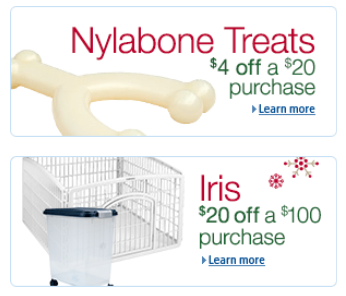 Amazon is having some great Cyber Monday dog deals that I just cant let go. I had to just let you all know about it. Some great items to get for your dogs for Christmas or just to have in general.
Are you ready?
– Kyjen: $5 off when you spend $25
– Nylabone: $4 off a $20 purchase
– Merrick Food & Treats: $5 off a $25 purchase
– Hill's Science Diet: Buy 2 Treats, Get 1 Free & 15% Off Food
– Pioneer Pet: $10 off a $60 purchase
– Iris:$20 off a $100 purchase
– Midwest: Buy one bed and get 20% off a second bed
– Wisdom Panel: Buy a DNA kit, Get a Greenies treat free
Oh! I cant forget about their great coupons they have also. There are too many to list but to check them out just click here
Now, go shop and have some fun shopping. But remember don't spend all your money!