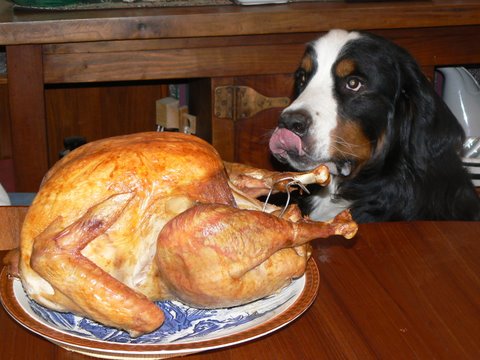 Its that time of year. A big turkey, a bowl of stuffing and family gathered around a table together. A time for thanks and happiness to be shared all around. Even with our dogs. But we cant forget to be aware whats good and bad for our dogs when we have company around.
I am not going to be at my house this Thanksgiving but in the past I always keep my dogs safety in mind. As much as its a fun time for us humans, it also should be a fun time for our dogs. So here are a few important tips to remember this Thanksgiving.
1. Dont share the bones
As much as dogs love bones, cooked bones from the turkey can be sharp and cause tears in the digestive tract. Also, the bones can make a dog choke. Best thing to do is just throw the bones away in a secure trash that the dogs cant get to.
2. Exercise your dogs before company arrives
A well exercised dog is a happy dog. Especially, if you are having company over it is important that your dog doesnt go crazy. You want your dog in a calm state of mind when your relatives start coming in. A hectic house can be a dangerous house. Worse comes to worse, if your dog is nervous or has too much energy you can lock him in a crate or in a bedroom away from everyone.
3. No no to alcohol
There are some dogs that really seem to enjoy an alcohol beverage. Dont leave your glass of wine on the table where your dog can reach it. Alcohol can cause a dog to get disoriented and sick. Too much alcohol can cause a dog to go into a coma or even cause death.
4. Don't over stuff your dog
I know how it is. With those big brown eyes staring at you wanting some turkey and other food. A few pieces of boneless chicken wont hurt him but dont over do it. Too much fatty foods can cause stomach ache or diarrhea in your dog. Also, in some cases life threatening illnesses like pancreatitis. So, share but don't spoil this Thanksgiving.
5. Toxic all around.
Remember  onions, garlic, grapes, raisins, macadamia nuts and chocolate are all bad for your dog. So, be cautious about what your dog is eating.
I hope everyone has a great Thanksgiving with their dogs and family. Have lots of laughs and remember safety first.