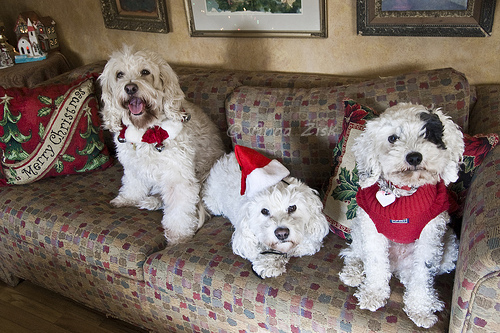 Christmas is just around the corner (time flies so fast) and every year the center of my Christmas cards is my pack. I mean just look at them, they can make anyone smile. This year I didn't really create a card online or offline but this photo pretty much says everything. Who needs words when a photo can speak for itself?
Below are individual photos of each of my dogs showing their Christmas spirit to you all.
I will tell you, it is no easy task catching a pack photo that looks great. Every second one of the dogs looks away, closes its eyes or jumps off the couch. Treats help but patience is the main key. I took about a hundred or so photos and kept only a few of them. But the ones that I kept really expressed the pack.
Anyways, enough about my pack, what about yours. Do you include them in your Christmas card? During Christmas how do you capture your dog in the Christmas spirit? If I do not write on Christmas, I hope everyone has a joyful and safe Christmas!