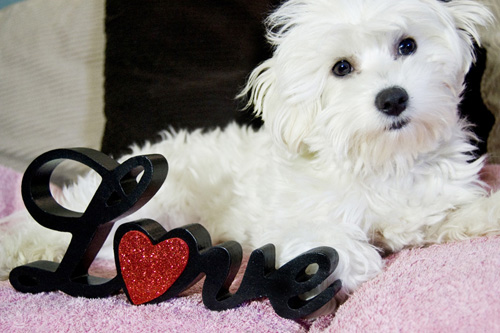 Are you excited about Valentine's Day? Getting all dreamy about the chocolate covered strawberries or the romantic date you may go on? Or are you dreading the day? Does it make you want to curl up and cry?
Don't let Valentine's Day get you down. Did you know if you're a dog owner you already have a Valentine? Thats right, your dog has been waiting for you to realize they are the best Valentine you could ever ask for. Here is why…
Your dog will give you unconditional love. Could you really ask for anything more?

Dogs don't talk. This might be my favorite reason!

They will give you the best hugs around. Very warm hugs!

Can't forget about those slobbery kisses! You know you love them!

They are always happy to see you. Even if you were only gone for 5 minutes.

They will listen to you no matter how boring, crazy or stupid you sound.

They will follow you anywhere you go. Even into the bathroom!

Your dog doesn't care if you have ugly clothes on and no makeup.

They love when you eat and share your food with them.

They are there for you until the end.
Could you really ask for anything more?
Now go spend time with your Valentine and remember your dog has chosen you as their Valentine too!